Citoyens assemblies of Gustavo Marín
With a aymara nose, Chilean Spanish, a Latin-American smile, a nourished glance of its international experiment with the citizens networks, Gustavo tells us the why and the how of current need to create a dialogue between the citizens and the emergence of the
citizens assemblies
in various parts of the world.
Leer este articulo en
español
.
Lire cet article en
français
.
On the road to a citizens assembly
Gustavo Marín of the Charles Léopold Mayer Foundation for the Progress of Humankind, describes the journey that has led to the emergence of regional citizens assemblies. He tells of their aim to organize the dialog within the actors and of their constituant nature for the regulation and transformation of the society.
watch
the video (Spanish with English subtitles)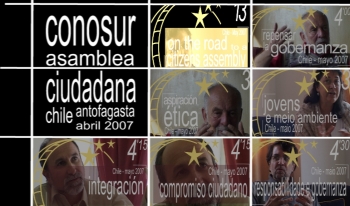 Latin American South Cone Citizens Assembly
An interview taped at the preliminary meeting
held in Antofagasta (Chile) on April 27-29 of 2007
La Paz - Bolivia, the 12th of july 2007.