What do you like Farnaz ? Writing of course !
Farnaz uses her sensitive hand to write long and short stories telling what is happening in our human internal continent. What happens deep inside when we love, when we dream, when we hope, when we are sad, when all around you in Iran is breaking you down and when you begin to become like a new kind of human rock ? Here are three little stories. They will be completed in the future by others creation of her as she promised to us.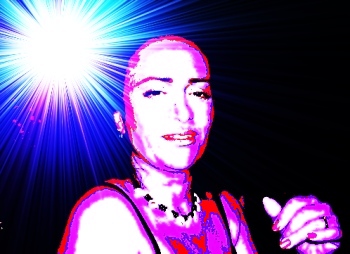 What do you like ?
Do you like storm ?

No

Do you like cold black tea ?

No

Do you like to crunch sugar and make noise ?

No, not at all !

Do you like the bad flavour of peanuts which have
left one year in your coat pocket, which recalls you
the time you were in the north walking in the rain ?

I don't like peanuts.

Do you like to bring out your head out of the car's
window and screaming out : "Aaahhh !" ?

I have problem. Wind makes me sick.

What about cartoons ? Do you like them ?

I have no times for such a things !

Do you like to swing ?

No, no ! I prefer football.

So, What do you like at all ?

I just love you my love.

I love you too.




---
If



I wish I were a piece of rope.

But I prefer to be a ladder.

You two are mad. I love to be a knife.

None of you don't know how it feels to be a monkey.

I disagree with all four of you. I just want to be a
lolipop.

Look ! Among you all, doesn't anyone want to be
human ?
---
Big lost kiss on the highway.



It was a rainy night. I was standing behind the
window. I could see the small square from my window.
It was opposite my face. I was looking at the various
lamps that illuminated the square. The light passed
through every drop of rain, making them transparent.
At this moment I saw it. I thought it was moon, but it
wasn't. It was a bright glob. The glob came closer as
much as I could see a man who was sitting in a narrow
chair. He was dressed ,but by his long blond hair . he
was playing his guitar and singing :
«I am Francois from fifth moon. I thought I really
needed something from fifth moon , but I could not
remember». After he finished his song, he waved his
hand pointed at me and disappeared. I cried out :
Francois, wait ! I remember ! I really need a watch
from fifth moon. But he was gone. So I made a paper
rocket. I throw it out of my window. After a second, I
heard a bell ringing. I opened the door. I saw a man
with a bicycle. It was blue. He was blue too. White
blue. Like the sky at sunrise. He said :
«I am William from seventh moon. I have something for
you». He gave me a big box. Then he got on his bicycle
and flew. I opened it. There was a very big wrist
watch inside. I tithtened myself to wrist watch,
because , it was too big. It is the best watch in the
world because I can never see the hand time , but I
can hear its voice : "tic tac tic tac tic tac.... " .








Tehran - Iran, on August 13, 2005.