One night for a wedding in Turkmenistan
5 days. 5 days, this is the time that Turkmen administration gave to us to cross the country. 5 days for 500 kilometres. A contract almost succeed on time for our brave bicycles, bécassine and coquelicot. Unfortunately, customs had just closed border's doors. Result : big fine, one year of suspension of stay on Turkmenistan's territory as punishment because we didn't bike enough faster and especially because we chose to spend some hours with future weds... surprise.
5 jours. 5 jours, c'est le temps que nous aura accordé l'administration turkmène pour traverser le pays. 5 jours pour 500 kilomètres. Un contrat presque remplit dans les temps pour nos valeureuses bicyclettes, bécassine et coquelicot. A ceci près que les douanes venaient de fermer les portes. Résultat : une amende salée, une année d'interdiction de séjour pour le Turkménistan en guise de punition pour ne pas avoir pédalé assez vite et surtout pour avoir choisi de passer quelques heures de trop avec de jeunes mariés... surprise.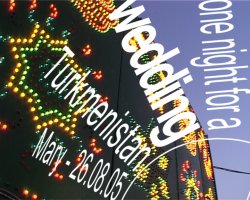 One night for a wedding(format WMV - 8 Mo)


Let's go dancing !














Samarkand - Uzbekistan, the 10th of September 2005.