Following the wind of Patagonia
If there is something that never gives up in Patagonia, it is for sure the wind ! So sympathic when it is in the back and how catastrophic when it comes in front. It gives forms to the pickled landscapes of the pampa, makes a strong noise and suddenly stops. But there is always always a little frou-frou remaining and its movement.
Fly !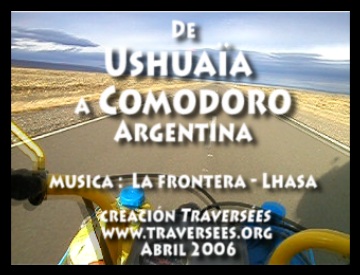 Mini-film n°9
- (format Wmv - 11 Mb)
With a music of Lhasa - La frontera
Fly !
Comodoro Rivadavia - Patagonie. Argentina. 2006. May, 2. 2006.